The district of South Lampung boasts an extensive coastline with exotic charm. Starting from the eastern beach, Bakuheni, it extends along the contour near the border of Bandar Lampung City.
Until now, residents have only been familiar with beaches like Merak Belantung Beach, Pasir Putih Beach, Pulau Pasir Beach, Wartawan Beach, and a few other "old" beaches.
In addition, the Trans Sumatra Toll Road (JTTS) has made it easier and faster to access tourist destinations, including the executive roro ship service at the Merak – Bakauheni crossing.
Recently, many new beaches have emerged that are stunning and popular. They offer beautiful panoramas, white sand, soothing waves, with a backdrop of mountains and, of course, sunsets.
Tourist operators are well aware of the current trends. They manage these beaches to be Instagrammable and suitable for the tastes of millennial and Generation Z individuals.
Besides being great for hunting photos and images for social media status or content creation, these beaches are also perfect for camping and hanging out while sipping coffee and enjoying the sunset.
The beaches offer a feast for the eyes with their beauty, from the landscapes to the crashing waves and the expanse of soft, gentle sand. It's no wonder that many tourists flock to these beaches for vacation.
South Lampung has several popular and beautiful beaches. Tourists will be mesmerized by the coastal views and the towering Rajabasa mountains.
Setigi Heni Beach
Visitors to Setigi Heni Beach will be amazed by the vast expanse of sand and the beautiful surroundings. Many tourists come here to take photos on the beach.
Setigi Heni Beach is located in Canggung Village, Kalianda, South Lampung Regency, Lampung Province. It can be accessed from two routes. It's just a few minutes from the center of Kalianda. You can also take the route through Simpang Gayam, passing through Mount Rajabasa and the beach.
The entrance fee is IDR 35,000 per person. Facilities provided include toilets, live music, a prayer room, and gazebos.
Kedu Warna Beach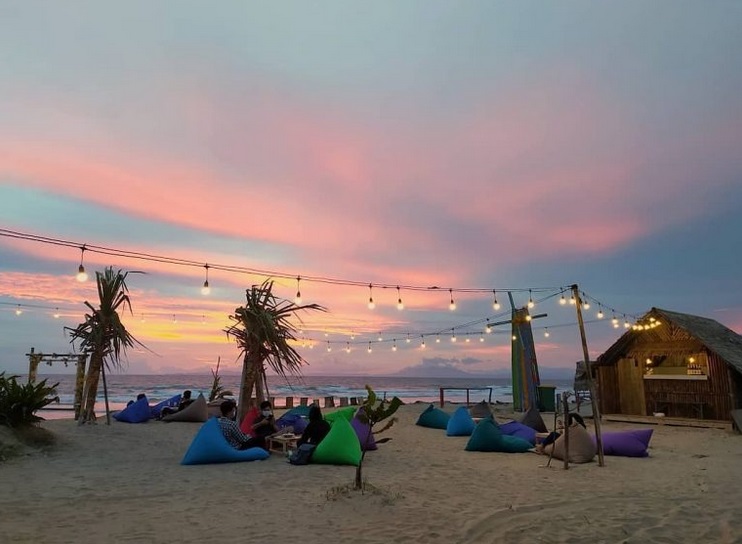 This beach offers an extraordinary panorama. It's easily accessible from the heart of Kalianda. It's perfect to enjoy in the morning, evening, or night.
The expanse of grayish sand at Kedu Warna Beach is quite gentle, making it a suitable location to play while enjoying the view.
From Kedu Warna Beach, you can see the majesty of Mount Rajabasa, making it a perfect backdrop for photos and videos.
Kedu Warna Beach is famous for its stunning sunsets. If you're a sunset enthusiast, visit in the evening to witness this golden sunset.
Kedu Warna Beach is located on Sinar Laut Street, Way Urang Village, Kalianda Subdistrict, South Lampung.
To Be Continued —— >